The Band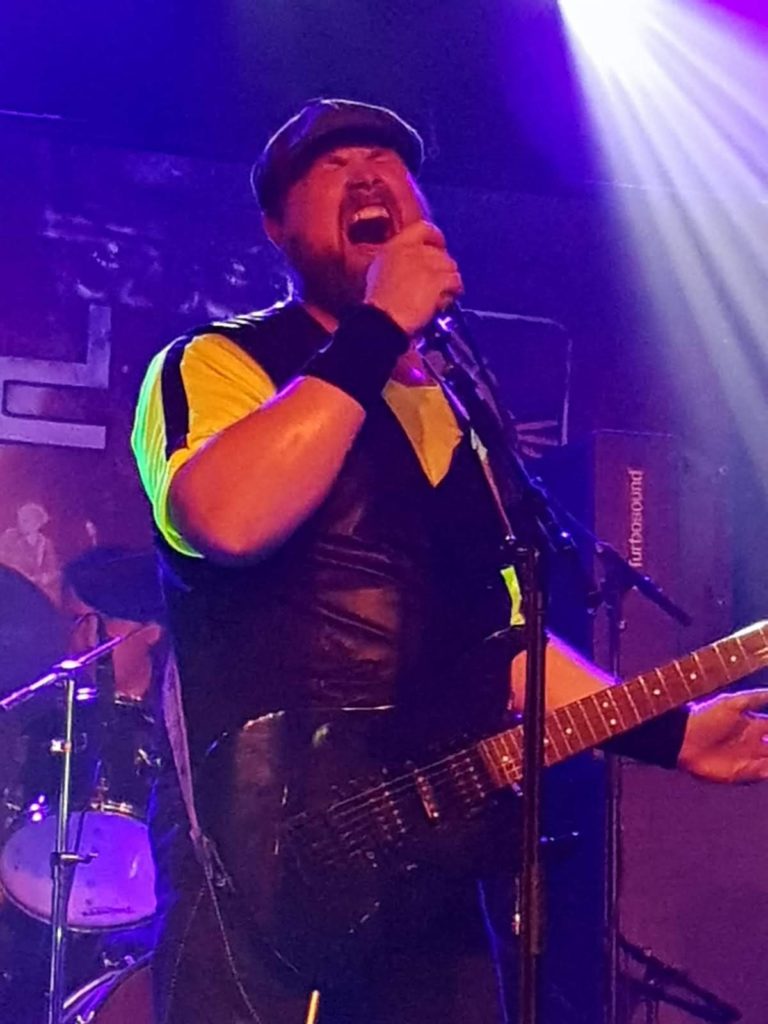 Mark – Vocals
During his many years as a vocalist and frontman, Mark has played in several rock/metal bands. His sometimes roaring vocals earned him his nickname, the Roar Toad. His singing varies from sweet and moving when singing ballads to ROARING like the thunder from Thor himself when singing the more heavier songs. Co-writer for most songs.
His ritme guitar playing is aggressive, like a cruising Harley: Loud and proud with a touch of dramatics. Once this man gets going there is no stopping him, making sure that you and the rest of the band gets involved. As a frontman he delivers each song with the right amount of touch and aggressiveness.
Gear: Jackson Guitar, Marshall combo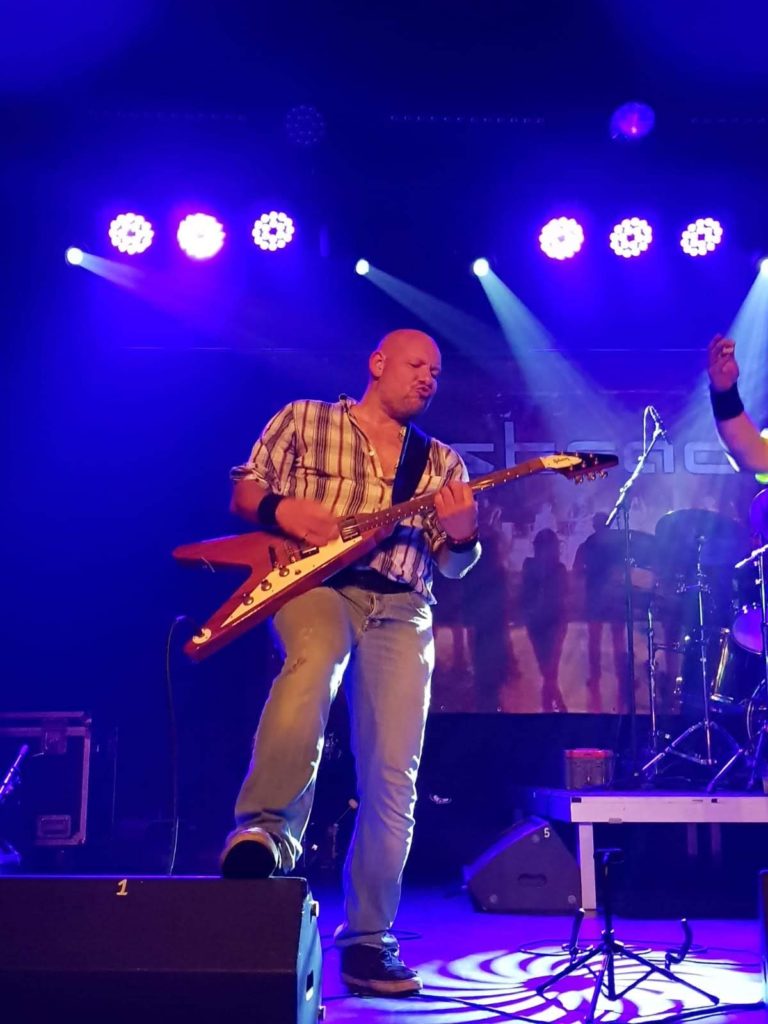 Geert – (Lead)Guitar
Started playing the guitar in his 30s and has always been searching for his own guitar style. Some call him the 'Neckbreaker' for he has broken the neck of both of his prized Gibsons (even broken the neck of his Les Paul twice). He refers to that as his complicated love affair for his Gibsons: 'They sound and play great but the construction is like glass '.
He is the main songwriter and riff machine. He likes to write about, women, sex and death. That is, as he says it. 'Part of being a rockband and what else can be important enough to write about? '
His playing style is aggressive and his soloing is furious with a little touch. Like a Sportscar, he accelerates but sometimes forgets the breaks and crashes into the next part of the song.
Gear: Gibson Les Paul, Gibson Flying V, Marshall JVM410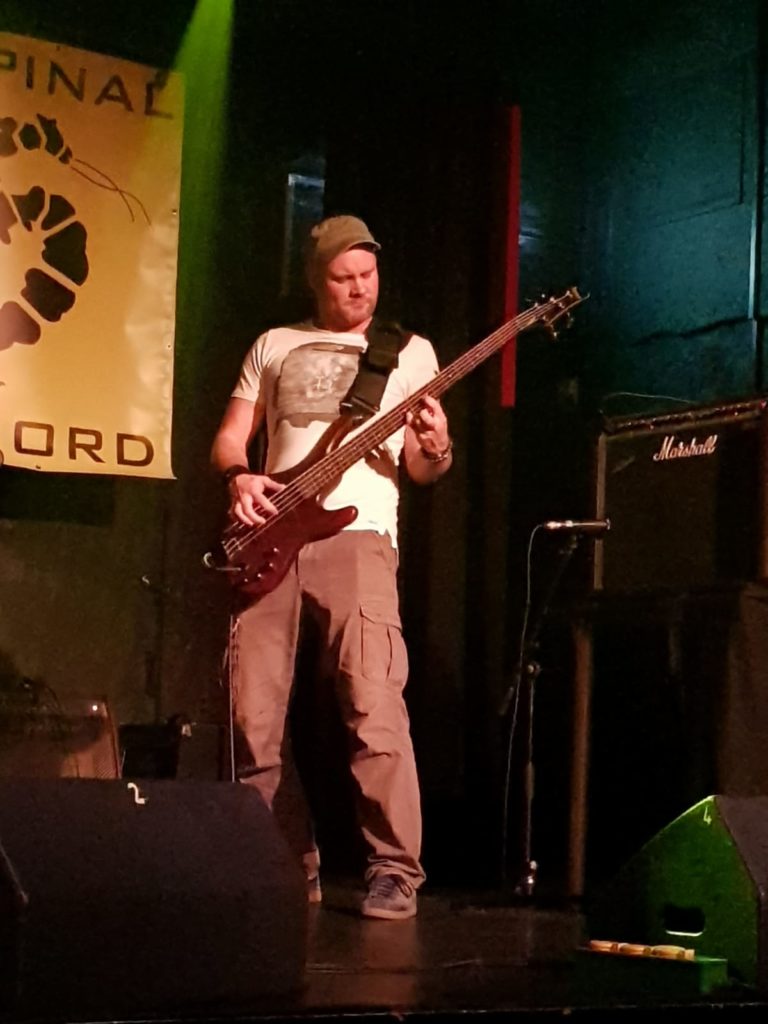 Olaf – Bass guitar
Our latest member to join our band. Although he mostly plays on a 5-string bass, he still prefers the 4 -string bass guitars. His band members like his wood coloured 5-strings.
Our low end mayhem master likes to keep things simple, filling the gaps and provide our music with a nice steady beat. His bass tones are like a monster truck, crushing everything that comes in his way. Yet as subtile when precision is needed.
Gear: Kustom Bass Amplifier, Ibanez Bass guitar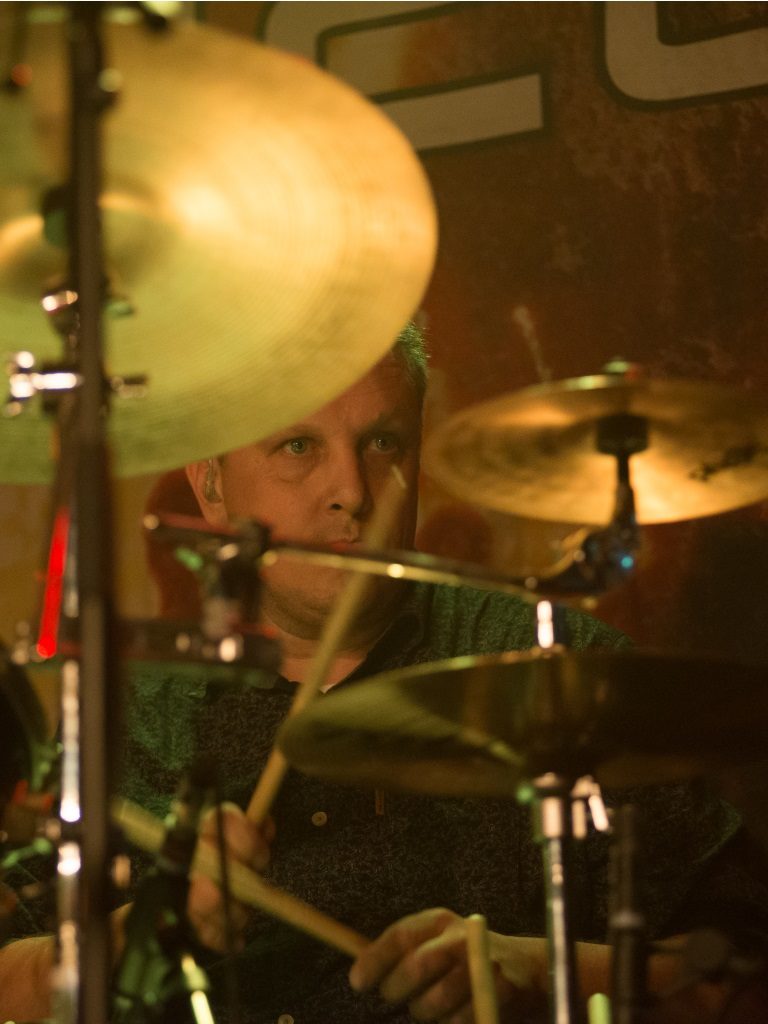 Richard – Drums
Founding member of the band. The rock in the pound. The animal and rhythm machine of the band. This man makes you want to bang your head. No compromise drumming and no simpel drumkit for him. He likes his toms and his cymbals.
Our stick man likes uptempo songs and although he somewhat hides behind his impressive drumkit, don't think you are not gonna hear him! He really dislikes a cajun or acoustic band sessions because he already plays acoustic.
Gear: PDP Drums with DW hardware, Vic Virth drumsticks, Paiste and Zildjian cymbals